Hey Readers!
Question for all: Did anyone get a chance to go Savers? For the 50 percent off sale yesterday?
I know some people were trying to go! But I also know a lot of people weren't able to go. Because they had work yesterday. I didn't realize how many people still had work on Veterans Day!
If you weren't able to attend the sale, it's okay.
There will definetly be another one.
For yesterday's 50 percent off day. I launched my first Thrift Challenge! For the thrift challenge, I wanted readers to go to Savers for the 50 percent off sale. And see what gems they could find.
But there was a catch.
The catch was, that readers could only spend 25 dollars or less!
That might sound easy, but it's easy to rack up on 50 percent off day!
I went to two Savers yesterday. One in West Roxbury, which is close to my house (and the Savers I usually go to). And the second one is in Norwood. Which is a little further out. And it's usually the second location I go to. After going to the first one.
I arrived at the first Savers around 10 in the morning. And by the time I arrivied there was absolutely nowhere to park in the parking lot! I literally had to part two stores down, in another store's parking lot!
When I finally walked inside Savers, and tried to get a cart.
There were no carts, In the cart section.
I wasn't in the mood to wait for someone to give me their cart, at the registers.
So I proceeded to walk in the store. And see what my eyes may find.
And my eyes found nothing.
It was a very unsuccessful trip. I can't even lie. I was pretty confused 🤔.
What's interesting. I was ease dropping to woman in the store having a conversation with her friend.
And she stated to her,
" You know, I feel like I'm not finding anything Good in here!"
And I immediately turned to the random woman, and stated.
"I was literally just saying that to myself. I'm not finding anything good either!"
Despite the items being half off. The inventory just wasn't that great!
After realizing that I wasn't finding anything in the store. And that I essentially wasn't alone. I started to put the forced items that I had in my hands down.
Suddenly, I stopped shopping. And began studying the shopping behavior of the customers.
During my observation. I noticed that some customers had hardly anything in their hands. While others had carts stacked up almost 6 feet high!
There was no in-between. It was either you went all the way in. Or you didn't at all.
At the Second Location, in Norwood. Is where my thrift trip started to pick up! I ended up finding some really dope gems there! And by the time I was done shopping. I went from not purchasing anything at the first Savers.
To having a packed cart, at the Second location.
But I had to eliminate items. Because remeber ..the challenge was that you could only spend 25 dollars or less!
I took a little time to eliminate. But I ended up walking out of the store with:
5 items for $22.70
Not bad right? And I also didn't go over $25!
Yesterday, I wanted to create a IG video or a live! To show you all thr items I purchased. But my front camera on my phone isn't working 🙄. And I definitely would want you all to see my face, while I'm talking.
I think my IG camera messing up is a sign! (Or it could also be Apple trying to get me to upgrade my phone lol)
Because I did want to start creating thrift hauls on YouTube. Where I can showcase all my thrifted items. How to's, And looks! So perhaps this is the push I need.
Either way, I think it's a great idea! And it would be another great way to engage with you all.
But for today's post, I posted 5 descriptive pictures of each item below!
Item 1: Beige Plaid Blazer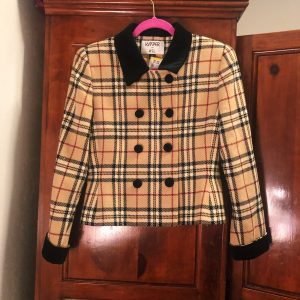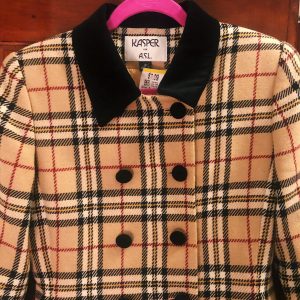 Price: $7:99
Half Off Price: $3.99
Why did I purchase this item? This item caught my eye when I was getting ready to eliminate items from my selection! I knew I was in the process of eliminating items when I saw it. But when I grabbed it off the racks, and tried it on. I loved it!
It has a nice form fitting look. It accentuates the waist, giving it a really smooth shape.
This is definitely a holiday friendly attire. I can see me rocking it for either Thanksgiving or Christmas! In my family, both of those days are a fashion event! lolll.
Item 2: Khaki Color Jacket (with faux fur collar)
Price: $15.99
Half Off Price: $7.99
Why did I purchase this item? This was the most expense item that I purchased. Immediately when I picked it up. I knew I was going to purchase it. And then once I tried it on, My decision was made!
This jacket is dope! I really liked the way it fits, when I tried it on. And I really liked the design.
The light khaki color of the coat. Mixed with the black collar fur to complimented it, had me sold!
I can't wait to rock this jacket!!
Item 3: Brown & Black Stripped, Oversized Cardigan
Price: $7.99
Half Off Price: $3.99
Why did I purchase this item? I really liked the color! As well as the stripped design. The buttons. And the two small pockets in the font. In addition, the oversized feel of this cardigan, had me sold!
 I love chunky oversized cardigan!
Especially for the fall/winter season. It's one of my favorite oversized items to wear. And to purchase from the thrift stores!
And it was only $4 bucks!
Look 4: Light Mocha, Chunky Cardigan
Price: $7.99
Half Off Price: $3.99
Why did I purchase this item? This was the first item I picked up when I first started shopping. The color is what initially caught my eye.
I really like this color! Neutral colors like this are great. Because you can literally mesh this color, with any color top or blouse. That you decide to wear underneath it.
In addition, similar to the first cardigan in this post. I also really liked the chunky oversized look of this one!
The cardigan also has these two big pockets. Which is great, for me to put my phone in. A little cash in. Or some lip gloss.
And it was only $3.99, like come on now!
Item 5: Long See-Thru, Snake Print Top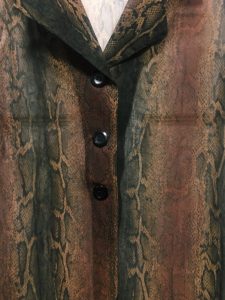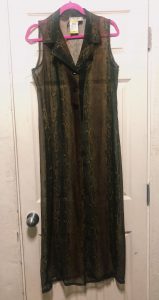 Price: $5.49
Half Off Price: $2.75
Why did I purchase this item? The long see-thru look had me sold! And since this item is snake print. I was even more sold! And since it was only $2.75. I WAS EVEN MORE SOLD!
I know snake print/animal print is currently trending this fall/winter season. But I've always loved animal print. All the way back to my Spice Girls Days when I wanted to be Scary Spice lol.
Last year I wore snake print a lot. The thrift stores had a ton of snake print items last year. (Because when you thrift remeber you are ahead of the trends).
I'm still trying to figure out how I will style this item. Since it's see-thru, and it's currently the winter time. But I'm very tempted to show a little skin underneath there! Lol
😭 I'll figure it out!
But isn't it cute though?
And it was only $2.75!!
So readers, what are your thoughts on these items?
or these deals?
What items out of my selection, do you personally like the best?
If you went to the 50 percent off sale yesterday..
Send me a picture of your items!
I will highlight your buy, on my story!
If you didn't get to go yesterday. It's okay. I will keep you posted on the next one!
Eager for unique thrifted items now? Well click this link below 👇🏿, to check out my Poshmark page @ www.poshmark.com.
Thanks for stopping by everyone!
Xoxo
Key To Fashion✨