This was my first photo-shoot for my blog, a moment that I can say had me feeling a mixture of excitement, and pure anxiety. After having to reschedule the shoot several times, due to things out of my control, such as Boston's erratic and unpredictable weather, I was ready to get things going, but as eager as I was to do my first shoot, for some reason my mind could not stop thinking about the fact that I would have to get completely comfortable in front of a camera, but more so in front of a professional one. I'm someone that loves photos, I love taking them, I love being in them, I have a great appreciation for the art of photography, and those nostalgia treasures it allows us to hold on to. But as much of a camera whore I can be at times… well a lot of the times, I began to realize that my dance class influenced poses, didn't exactly reflect my dynamic personality. In reality, I didn't know how to show my personality through photography, and when I met with the photographer that I would be creating and collaborating with, I knew it was important to be real with him on an area I was trying to progress in
2016 was the first year that the idea of a blog had made its way in my mind, more times that one, but every time I got to thinking about it, I remained stuck on how I would structure it. I remember when Insta DM came around, I messaged a well known UK blogger, Freddie Harrel, asking her if she had any advice for potential bloggers. She graciously responded, and gave me authentic advice, but with no plan, and no idea of what exactly I was trying to do, I left the idea alone, but it was always sitting in the back on my mind.
In May of 2017, I started writing again, as a way to uplift myself during a tough time. I wanted to push myself to do the things that I used to enjoy, but more so the things I wanted to do. Subconsciously, I think I also wanted to see, in the midst of depression, if I still had it.
I wrote two articles, in that month, both which were published by Blavity.com, a media site for Black Millennials.  In one of the articles I discussed an incident that happened in Malden, Massachusetts where two young girls were suspended from their school, for wearing Box Braids in their hair, and the other on why it's important for Black People to have good writing skills. It was an exciting, short lived feeling though, because soon after, I lost all motivation to write. It would take until the end of December, for me to start writing again, after my very first termination, as a resale fashion buyer. It was at that moment, when I realized the power I possessed, and the fear of my advancement as a Black Women, after that wrongful termination (which i will definitely not indulge in later) I said to myself, I either have two choices, I can sit here and continue to feel sorry for myself, or I can acknowledge the significance of that moment, recognize that I'm a threat, and start to advance. I began writing again, after taking a six month long hiatus, but this time I began writing for my blog. Eventually I began searching for web/logo designers, for photographers, and next thing you, here we are,  Key to Fashion is now live. I'm grateful for that termination, because without that termination, I would not have the perspective that I needed to push me forward.
My first shoot was at Modica Way, a dope and slightly secluded alley way in the heart of Central Square, in Cambridge, Massachusetts. I've always had great appreciation for street art, that's one of the things I always wished my conservative city called Boston had more of, but when you're a conservative city, you do conservative things. For my first shoot, I wanted the background to be highly expressive, in comparison to my internal disposition at the time. Through every high and low I've experienced thus far this year, I felt a strong urge to think of new ideas, and to find new ways to exercise my creative muscles more than ever. I guess 2018 is really the year for new beginnings, and we should all be ready for whatever continues to come our way in these next 4 months.
On the day of the shoot, I was super excited to get the show rolling. For my blog, although I had been planning excessively for it, the one thing I did not want to plan all my outfits for my shoot. Realistically, I'm not someone that plans their daily outfits, so I wanted to leave room for spontaneity and innovation. I allow my vibe, to conclude and create my outfit of the day, and it's important to me that the pictures I display on my blog convey that expression.
Since Modica way is a very vibrate area in Cambridge, I wanted to wear something that would compliment the loud background, but complete the edgy vibe that I had been feeling that day.  For my first shoot, I wore an over sized acid washed jean dress from Asos, long pink knee high velvet boots, and I accessorized the look with a vintage multi-checkered bag. The dress was purchased from Buffalo Exchange for either 16 dollars, the long pink high knee boots cost me 14 dollars at Charlotte Russe, and the bag was either 7 dollars originally, but I had purchased it on a half off day at Savers. This entire look cost me: $37. I don't think you always have to spend a lot of money on clothing, to me it's not always about where you shop, but HOW you shop, and how YOU personally style your clothing.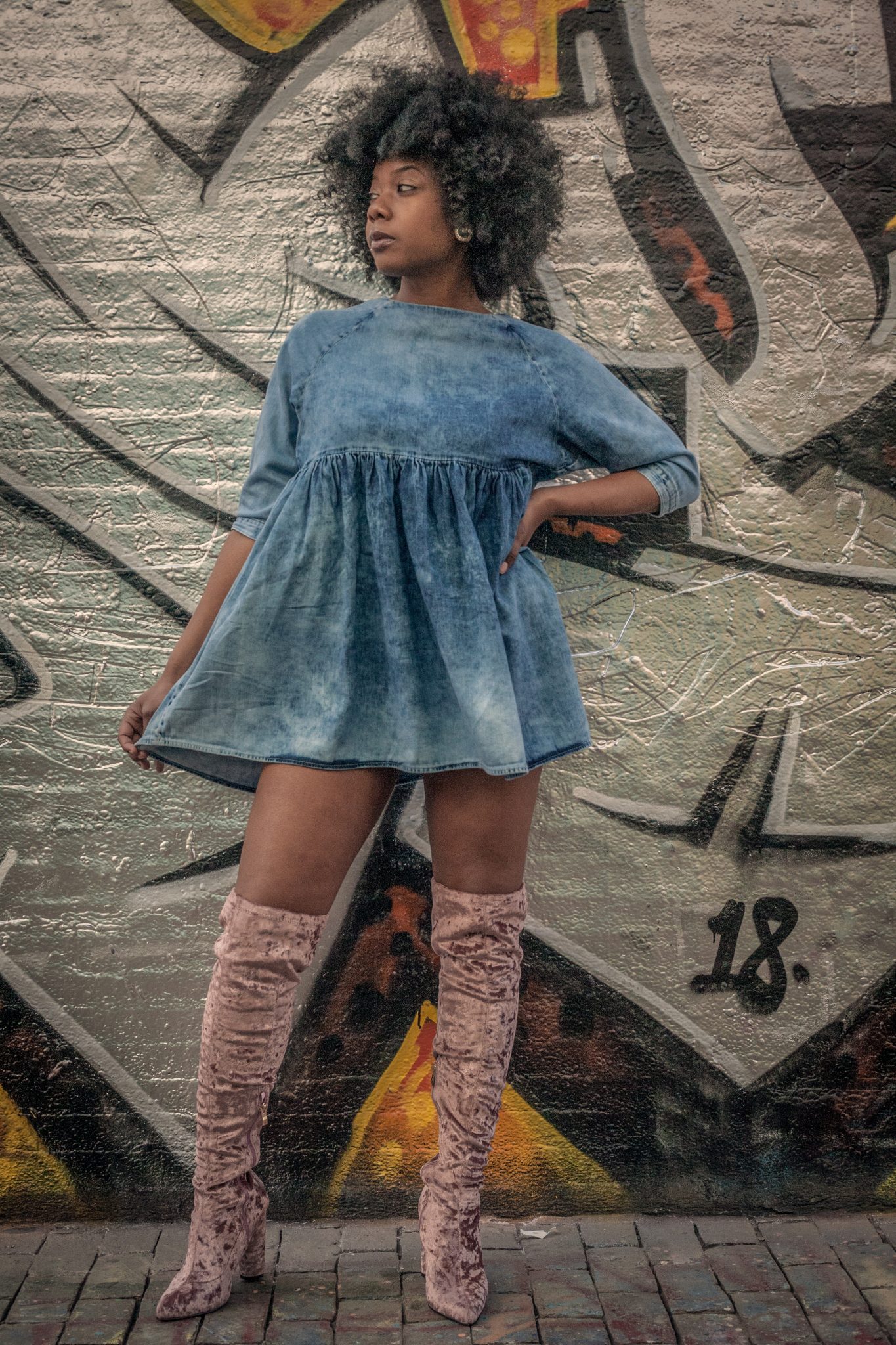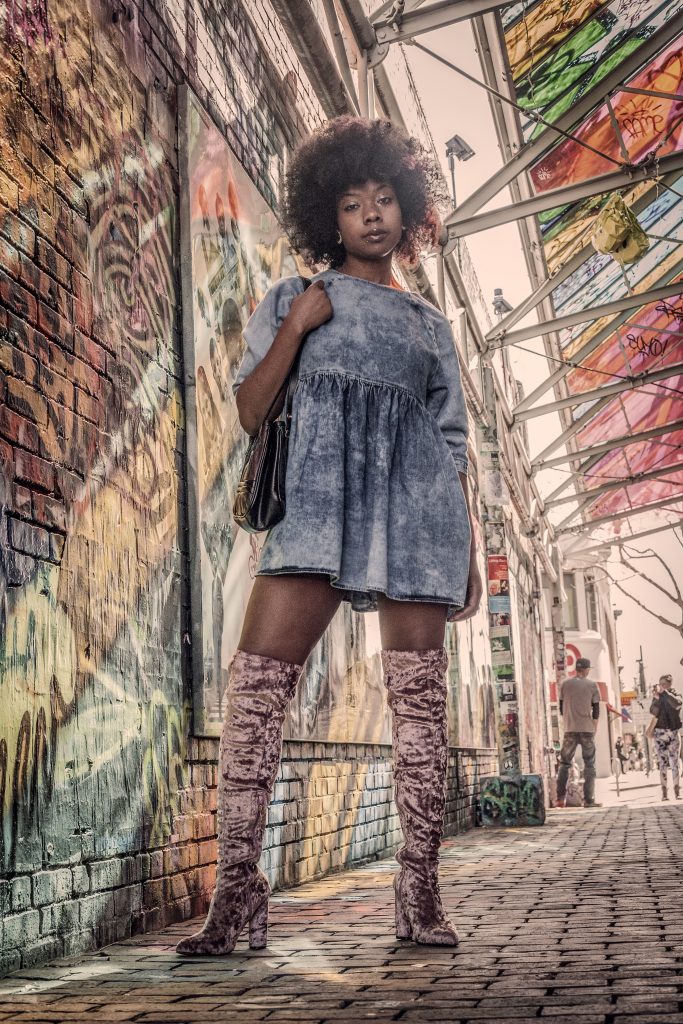 I'm a huge fan of acid wash looks, since my high school days, Ive always loved how it effortlessly gives my outfits an edge. There is also a bit of an edge to my personality,  so that's probably why I love the look as well lol. I'm also a huge fan of oversized looks! Oversized looks are perfect for those days where you don't want to have clothes sticking to your body, for those days where you want to be comfy & cute, instead of crazy, sexy, cool, and for those days where you may be bloated because you are on your period. Or perhaps you're simply feeling an oversized look that day.
To be honest, what caught my attention about the dress, was it's oversized fit, and it's acid wash look. I know some people are not into oversized looks, and some of the common complaints about oversized looks, are that it makes some people feel big in size or weight. I personally disagree with that statement, I think that oversized looks are dope, especially when you put your own spin on them. I'm not someone that tends to wear a lot of jewelry, because my expressive personality, and style are already enough. Plus, I'm also very careless with jewelry loll, but if you are someone that likes to wear jewelry, you can absolutely accessorize this look with whatever jewelry you think would enhance the look, and authentically express who you are.
This shoot was done in March, so it's definitely a bit warmer out now for long sleeve oversized dresses, and high knee velvet boots, but remember there is always that summer night life if you live in a state with erracric weather like me, or you can easily keep this look in mind for when the real fashion season, FALL SEASON, comes back around in September!
Can you believe this entire look cost me 37 dollars? Lets chat below!
XOXO
Key Michel