Let me start this post by first saying that, I love statement sleeves! When the Bell-Hand sleeve look first came out in the beginning of the year, that's a trend train that I hopped right on. I'm not always into following the latest trends, because I never want my style to look too trendy, but some trends speak to my style! When rocking trends, the biggest question to ask yourself is:
How can I rock this trend, and showcase my personal style, all at the same time?
Statement Sleeves are huge this fall, so I thought I highlight a completelely thrifted look, with everything thrifted, except the shoes! I know everyone might not be into the dramatic look of the sleeves, but to be frank with readers, I think statement sleeves look good on a variety of people. Kinda like the color mustard yellow!
Statement sleeves instantly pop out your outfit, and everyone needs instant pop-outs, in other words statement pieces in their wardrobe! These are items that you can literally throw on, and they transform your entire look. You can wear statement sleeves with any bottom that you decide, but I can guarantee you, that the statement sleeves from your blouse, will be the attention grabber!
What's dope about statement sleeves, is that they all come in different designs, prints and patterns. Some statement sleeves, are designed to have a straight look from the shoulders down, and then be completely wide at the ends. On the other hand, others are designed to be completely dramatic from the shoulders to the ends!
For this look I rocked a plaid statement sleeve shirt, with ruffled sleeves. I loved the simple but dramatic touch from that this shirt gave this look. The shirt is an immediate eye catcher, which I paired with dark blue thrifted jeans, and light purple velour shoes! And remember, everything here is thrifted, except the shoes!!
Get full details on this look below!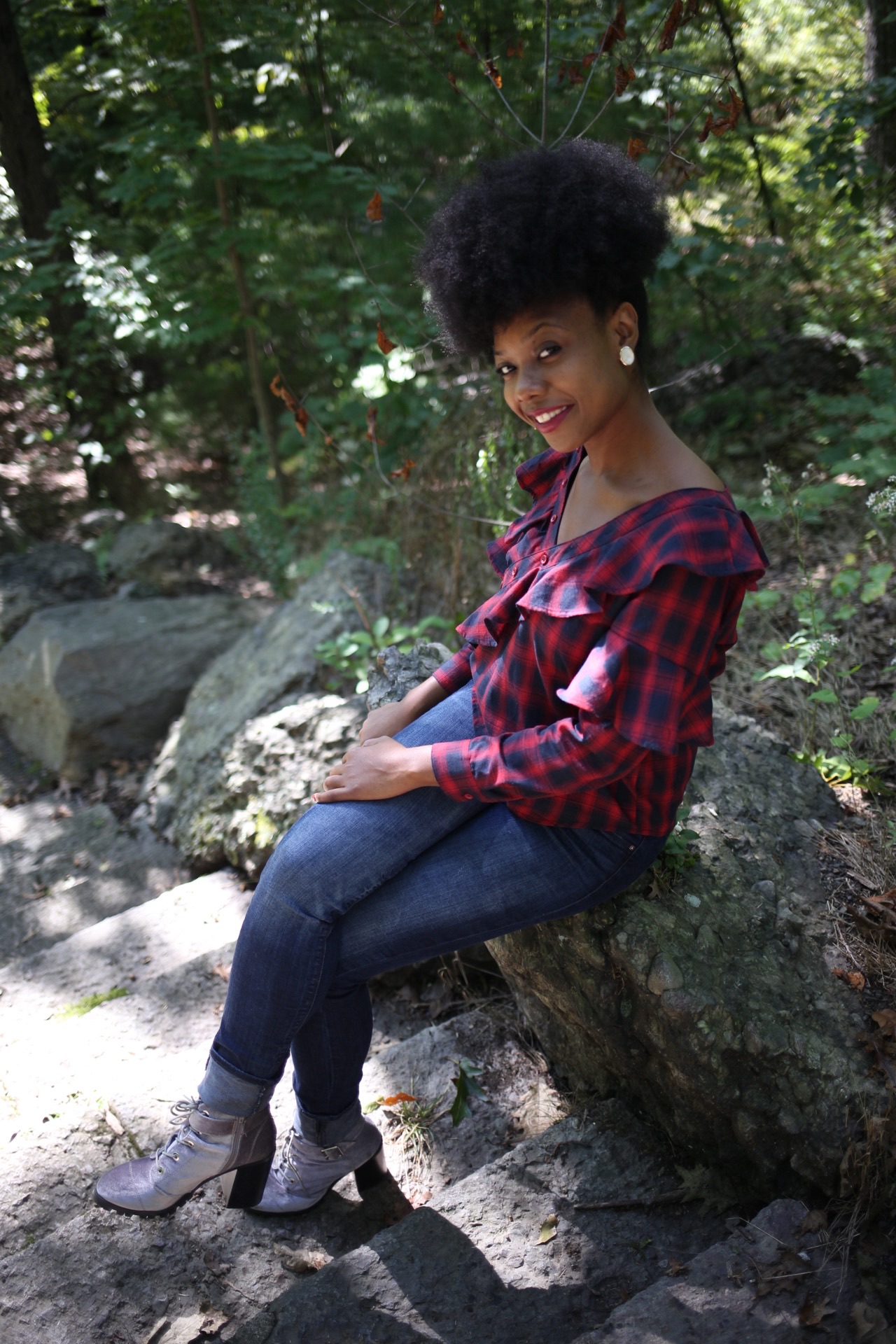 Plaid Statement Sleeve Shirt
Brand: Chiwawameme, Store: KeytoFashion (online store coming soon, check out my Poshmark now TheKeytoFashion, where I resell trendy, unique and stylish items for a good price! The name is slightly different on my Poshmark, because I made the Poshmark before I dropped "The" from the name! And Poshmark wont let me change it for Branding purposes! Felt the need to explain that to you all, now back to the look! Lol) Price: $14.50
Dark Blue Jeans
Brand: H&M, Store: Savers, Price: $7.99
Shoes
Brand: Charlotte Russe, Store: Charlotte Russe, Price: $40 (on sale price)
Total: 62.49
The shirt and pants without the shoes, would have been 22.49! What a bargain!!
Now, I know you all won't be able to find the exact same statement sleeves, so tomorrow I will write a post, detailing for reader various options, for readers to find statement sleeves for a good price!
Lastly,
I went thrifting this past weekend for the 3-day weekend, and I got some dope ass finds! I want to show you all the items, to educate you all on a realm of fashion that I truly appreciate. I'll be on IG live tonight at 7:30-8, after dinner for some, and before your weekly shows for many! Either way, I hope to see you all there!
Readers, I'm curious to know, what are some questions you all have about thrifting? Perhaps you went this past weekend, or last weekend and your trip was unsuccessful, maybe you feel weird about wearing or purchasing secondhand clothing, what questions, comments or thoughts do you all have? I will be mentioning and answering all these questions and comments on the live tonight! So please share all your thoughts, questions, and comments below!
I appreciate you all taking the time to read this post, and as always I hope every reader, walks away with a takeaway!
Until next time Fashionista's
Xoxo
Key Michel