The fall season has started. By immediately influencing me to let go of the things in my life that no longer serve me. To make peace with things in my past that I haven't healed from yet, and to abandon energies and environments that are negative, and can ultimately consume me.
With only three months left of 2018, there is so much that I have left to accomplish, so many goals that I want to fulfill before the year is over, but for some reason it feels like I'm racing against time. I guess it's the millennial in me. When it comes to my dreams and my goals, I can admit that I can be quite impatient with the process.
Similar to many of you all reading now I want my family to see me succeed. I want my friends to see me succeed, but honestly,
I want to see myself succeed! But what makes me think im not succeeding now?
Has anyone else ever felt this way?
Throughout 2018, one of my biggest lessons to myself has been to trust the process, and to celebrate the small steps within my journey. All the highs, all the lows, and all the wins. This year I wanted to indulge in my passions, and align with my purpose, and I knew one way I would have to start aligning with my purpose is by quitting my job.
I have been working at a non-profit in since 2016, and to be quite honest, with no exaggeration, my experience is something that honestly deserves either a YouTube video for. Or a podcast episode (which I'm seriously considering doing). Because no amount of writing, can give this story enough justice.
Any job where you are put into a meeting in yout first week, to hear about micro-aggressions and racial tension, happening to your teammates from another team, is a clear indicator, of the fuck shit that really goes down. And like a snowball effect, things only got increasingly worse and worse and worse. I know people say its unprofessional to talk about your prior employer, and I can totally see why, but when you are falsifying your mission statement, I'm sorry, then you need to get exposed. Alot of thing that went down, literally went against every fiber of my moral and compassionate being. At times I felt so quilty working at that place! Especially knowing that a lot of racial issues were involved amougst the staff, prior to my arrival, but it's an organization, known for serving mostly Brown an Latino youth. This is indeed America, and like many of you all reading this post, I'm not with it!
Although, I possessed several dislikes for my prior employer, I acquired a lot of knowledge and growth, througout these past two years. More so, because I forced and pushed myself to grow and learn, as much as I could. It was when I started the job, that I started having my own visions to start my own business, or my own brand. I knew the job wouldn't maximize my growth, unless I forced myself to maximize my growth, by seeing how I could grow in, but also outside the company. There comes a point, where you realize there is only so much growing you can do at a job, especially if you never really liked it. Eventually, the feeling of stagnation, starts to travel with you, like baggage, and, "when you can no longer grow, is when you know you have to go". I knew I had to let go off my job, before 2018 ended, and especially around the fall season. I felt myself transitioning into a new season, with the same negative and toxic whirlwind energy, that I wasn't trying to be apart of anymore. The thought alone was enough to make me extremely anxious!
Now, I know I'm not alone. I know there are other people, who can't stand their jobs, and stay in them, for whatever their reasons maybe. My reason has always been security, I'm a security person, I need to know that I have money coming in, and when and how, but I knew I had to take a risk here. I currently do not have a another position lined up, but for some reason, I'm not scared. I have faith and a strong intuitive feeling that I made the right decision. I know that everything will be okay. I knew I had to let go, and trust the universe here. I still have to put in the work now, but I'm trusting the universe more than ever to align me, on the next path of my journey.
The day of the shoot, which was last week Friday, was the day I told my teammates that I was leaving the organization. I felt beyond anxious to tell my team, that I was leaving, but I also felt, extremely proud of myself for making the decision to leave. I think my co-workers could tell, I was also internally feeling good about my decision, because of my vibrant outfit. Don't get me wrong now, I try to come in everyday of work expressing myself through what I wear, because that is my own personal revolution. But like every fashion lover, some days your work outfits are more "bang bang" than others, especially if the job's vibe isn't tailored for fashion lovers!
That day in particular I was really feeling a mix/mesh look, with a bold statement piece. Mixin' and Meshin' has actually been a huge contributor to my style. Its unique, how you can put two completely different looks, prints or styles together and combine them, in a way so they can  compliment each other, and your style. I started mixin and meshin' in high school, and I remember when I first started, people would really come at me, for not matching! This was back in the heavy Jordan era, where you weren't pippin, if you didn't come into school with a whole matching outfit, to match your Jordan's with, but that was never me! And as you can see, years later, here I'm, still doing the same thang, so clearly I didn't really care.
You always gotta do you. Especially if it makes you happy. No matter the chit chat or backlash you may receive.
The look
Look Description: For this look I wore high-waisted pin-striped pants, which I love and can't wait to tell you all the price! I wore a multi-printed vintage long sleeve shirt. I absolutely love vintage Tee's, the expressive prints or cuts I find, always match my dynamic personality. I wore a vibrant red biker jacket, and interestingly enough, I actually highlighted biker jackets, last week for my first post of the fall season! I'm definitely a fall jacket lover, which is evident, because here I'm highlighting the biker jacket look once again. Also, I can't forget about the silver booties!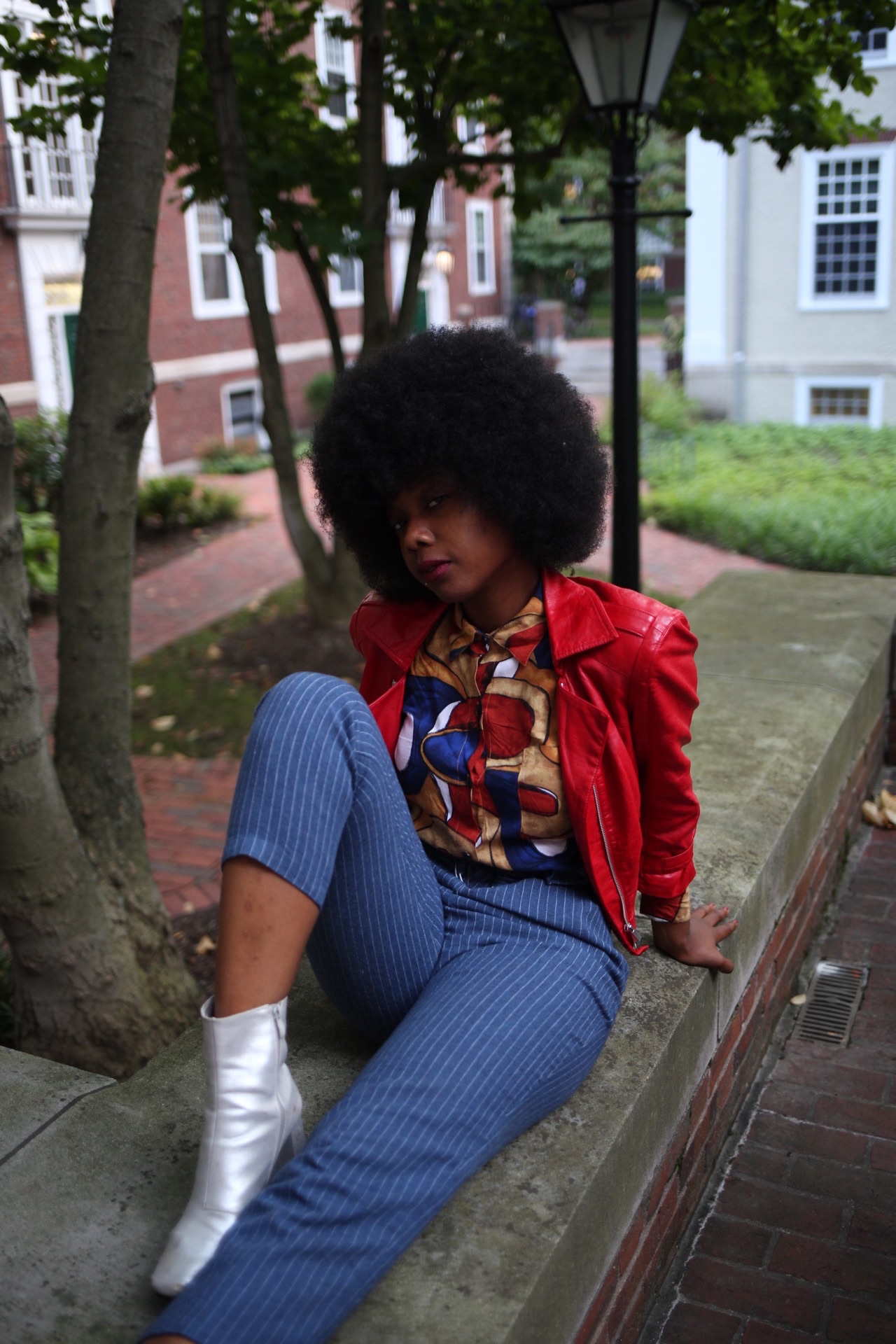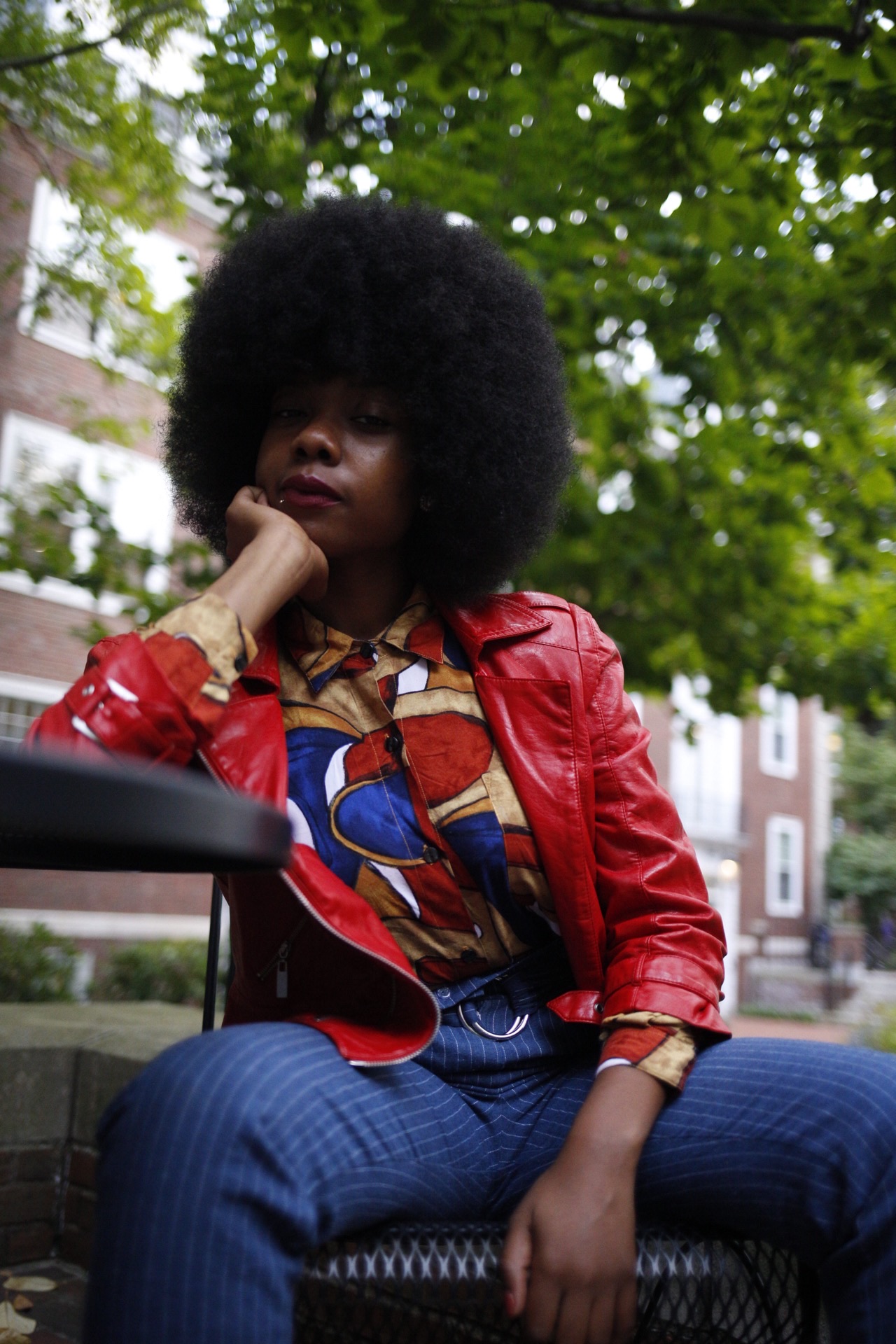 Look Prices:
Vintage Biker Jacket: Savers ($11) || Printed Shirt: Savers ($7) || Pin Stripped Pants: Buffalo Exchange ($12) || Silver Booties: Boohoo ($25, got it 50 percent off). Total: $54 dollars!
I hope you all enjoyed this post, and this look. I'm definitely interested to hear about your thoughts! I know many of you all comment, on Ig, instastory DM, text me personally, or read and don't leave a comment. But leaving comments is one way we can build dialogue here, and continue grow the Key To Fashion community!
As always, thanks for stopping by readers, and tune in tonight on IG, I will be doing my very first thrift haul! If you don't know what a thrift haul is tune in at 7:3o! 💃🏾💃🏾