You can never have enough thrift tips to amplify your knowledge and skillset. Whether you are an active thrifter, or completely new to the game, acquiring more knowledge upon thrifting can only do you more justice. The next time you go thrifting you will have extensive insight, to use to achieve more successful and exciting thrift trips.

Thrifting is an experience that is meant to be full of bliss. It shouldn't feel overwhelming; difficult or hard. There are a lot of people that engage in these limiting beliefs about thrifting; and if you are one of those people strive to get rid of them now. It will be hard for you to take in any of these tips that will be shared below; if you already believe that you aren't a great thrifter.
Keep scrolling to check out 9 thrift tips that you must know!
1) Thrift Off Season
Most people go into thrift stores with the conscious intention of thrifting for the present season. If it's the spring or summer; you are thrifting for those seasons, and you aren't even thinking about the fall or winter.
Interestingly enough, during off seasons is when people tend to donate a lot of clothing items from past seasons. You may find the most stylish off-season items, or off-season items that are marked down (depending on the thrift store).
In addition, if you resell clothing; you always want to be ahead of the next season. If it's summertime; you want to be sourcing for fall inventory in the summer, and so on and so forth.
2) Always Check The Ends Of The Rack (especially by a mirror)
When people are in a hurry to get out of the store, or they no longer want to purchase certain items; for some reason the ends of the racks are their go-to place. Especially when the end of the rack is followed by a mirror; you will always find some amazing gems left there.
If you think about consumer behavior it makes sense. People are using those mirrors to either try on clothing, or to put clothes up to their bodies to visualize. If they don't like the items anymore instead of putting them back; they stick them behind the mirror, which is also the end of the rack.
Listen, do yourself a favor, and always check the end of the rack.
It's amazing the hidden gems you can find there.

3) Thrift @ Local Stores That Aren't Huge Chain Stores
Local thrift stores that are often times small in clout; can be big in gems. You can find some of the best stuff at local thrift stores that are only well-known in your city, your state; or country. Some of these stores also will keep a budget-friendly price point; unlike many nationwide chain stores that are increasing their prices.
Keep in mind the type of thrift store you are shopping at, and the demographic that they primarily serve. If you go to a local consignment shop, in a posh part of your city; don't be surprised if the prices are higher. Knowing the demographic of the thrift store is very essential.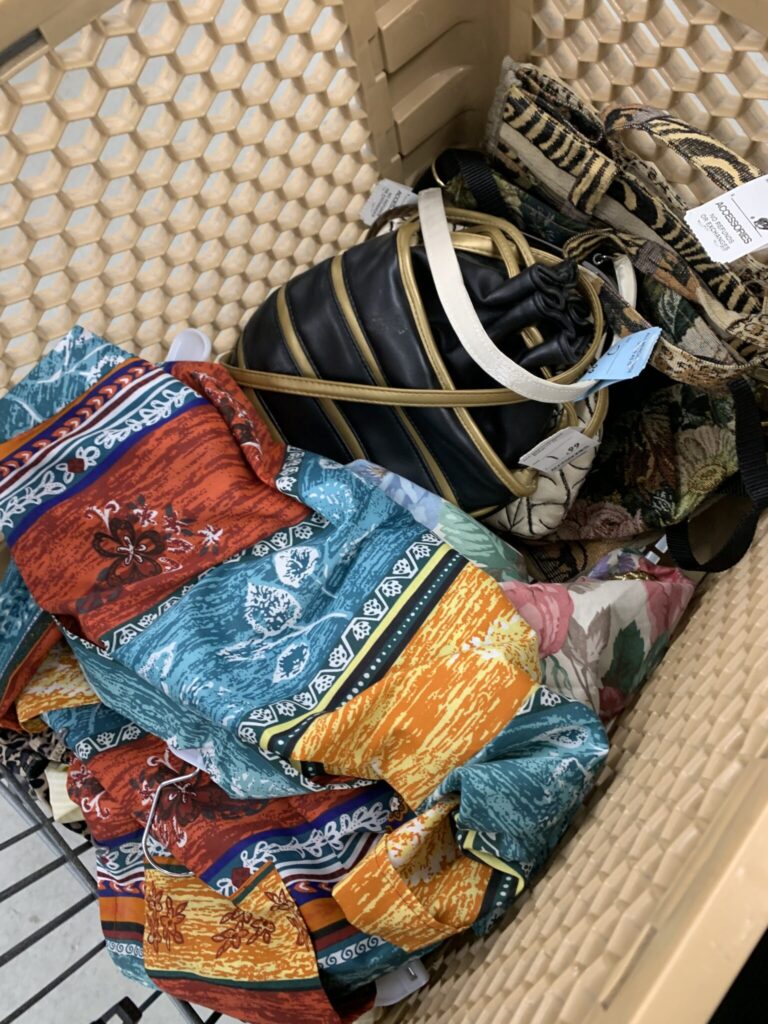 4) Initially, Check Out The Section You Enjoy The Most
Access your own thrifting behavior right now, and ask yourself two questions:

When you walk into a thrift store, do you start towards the front section of the store, and work your way around?
Do you walk straight to your favorite section; or the one you really want to explore the most and start off there?
To briefly share my own past behavior, I would go into a thrift store and start thrifting at one of the front sections; and work my way around. Now, I go to the section that I'm currently loving the most, and really want to explore; and explore from there.
For example, I'm loving the bag section a lot right now, so when I go thrifting I immediately walk to the bag section; to check out the section I'm currently raving about.
Why is this a great strategy?
1) It immediately excites you
when you walk to the section you love the most; and it's a success it gets you really excited for the remainder of the trip. It also allows you to thrift at a higher state of flow. Whether the rest of the trip is a success or not; you won't really care because the section you enjoy the most was.
2) It makes you eager to see what else you can find
If the section was successful; you are excited to see what else you can find. If the section was unsuccessful, you are eager to see what else you can find; because you want the trip to be a success.
https://youtube.com/shorts/afggvP_pdZU?feature=share

5) Bring A Reusable Bag With You
A lot of thrift stores are no longer giving out plastic bags. Some stores give out plastic bags and reusable bags; but you may have to pay a small fee. Some stores don't give out bags at all. To be prepared; bring your own reusable bag. If you drive you can leave one in your trunk at all times; so you can have it during your next thrift trip. You can also carry it with you; if you don't drive and you live in a city with accessible public transportation.
In addition, you can also pay; if that is your prerogative.
This tip is more about convenience and preparation; than about paying the bag fee.

6) Thrift On The Weekdays or Days When The Thrift Stores Won't Be Extremely Packed
All of the tips listed are important; but this tip will shift your entire thrift experience for the better.
The day and (sometimes the time) you thrift truly matters. Some may say it matters because all the "good stuff" are gone at a certain time; and that really isn't the case. Remember "good stuff" is very subjective. What might be good to you; might not be good to someone else.
Thrifting on the weekdays; or a less populated day, grants you with a much more relaxing thrift trip. You won't have to worry about extremely long lines, or packed aisles. The vibe and aura of the store is a lot better; which is exactly what every thrifter wants and needs.
7) Don't Be Discouraged If Your Thrift Trip Doesn't Start Off Successful; Things Can Always Turn Around
Some thrift trips can start off as a miss; and immediately turn into a hit. Thrifting is a spontaneous shopping experience; so don't get discourage if your trip doesn't start off as planned.

Let's say you try thrift tip #4, and you shop at your favorite section of the store first, and it wasn't a success. That doesn't mean your entire thrift trip won't be a success; keep going, keep thrifting.
Even if the entire trip ended up being unsuccessful; keep going, keep thrifting!
8) Wear Clothing That Allows You To Easily Try On Items Over Your Clothes
Due to the current state of the world, a lot of thrift stores have decided to shutdown their fitting rooms. Perhaps you are someone that never really cared to try on your thrifted clothes; but if you do, a suggestion would be to wear form-fitting clothing that will make it easy for you to try items on.
For example, leggings and a form-fitting shirt, athletic wear, yoga wear, or bodysuits.
9) If You Wear Bags; Wear A Crossbody Bag
You want your hands to be free when you thrift; so you wouldn't want to physically hold a purse or a bag. Leaving your bag in your carriage is also not a great idea; because people accidentally (and maybe sometimes on purpose) take people's carriages. The smartest thing to do is to wear a crossbody bag that is comfortable, that secures all your belongs; and allows your hands to be free for the treasure hunt!