Happy Friday Everyone! Who else is more than ready for the weekend!
Personally, this week felt really long to me, but I'm ready to have some much needed fun this weekend!
What are you all getting into this weekend? 💃🏾
If you have no plans, I definitely suggest you all go Thrifting! Whether you are in my city of Boston, another state, or another country, it's my personal duty for all my readers to get introduced and acquainted with the world of thrifting. In prior blog post, I've broken down the resale fashion industry, where I explained, defined and categorized for readers, the different store types and specialities; in the resale fashion industry.
Today, I'm not going to be redundant now, and share with you all another LONG blog post detailing the industry again, but I write this to encourage you all to go thrifting this past weekend, if you have any free time!
Why you might ask?
1) The support for one's Individuality
2 ) The Afforbable Prices
3) The treasure hunt shopping experience
4) You will eventually become ahead of current fashion trends
Number 4- I want to give a bit more context. In resale fashion stores and thrift stores, you are often finding items, that you will realize will be a trend for the next season, or even for the next year. For example The Tweed jacket that I'm wearing in my blog post cover, was a jacket that I purchased last year, for 50 percent off, at the Garment District, in Cambridge, MA. Now Tweed Jackets are currently a huge fashion trend for Fall 2018. When your a frequent thrifter, expect this to happen to you.
A Few Tips:
In a later post, I will get teach customers how to thrift shop like a fashion buyer. I was a Fashion Buyer at Plato's Closet a resale fashion store, where I served as a highly effective buyer on the store's team. But for now since it's Friday, I'll keep it short and leave readers with a few thriting tips.
1) Inspect the underarms,  the crotch line, and the bottoms hems of your garments
2) Always try your uncertain items on. I know people do this at mainstream stores, but at a resale fashion store this isn't very important because many times you cannot return items, you can only get store credit.
3) Find out if the store your shopping at, has a sale that day.
4) If your a college student, always bring your college ID when you thrift, especially if your going to Goodwill. Also, find out the student discount days for your city and state.
5) Take your time looking through the racks, you never know what gem you may find deeply hidden.
6) Experiment! This is the time to get out of your comfort zone. You may see an item in the store that catches your eye, but it maybe a little daring for you.  Get it, and work with it! Experimenting will give you new style ideas, and more confidence!
7) Go Alone or With a friend. Thrifting is one of those shopping experiences that is enjoyable either way. Thriting is fun with friends, because you are able to show all the personalized gems that you all found at the end. Most of the time I go thrifting, I go alone, because it honestly is therapeutic to me. For example, last week Sunday, I was stressed out due to some family concerns, so I decided to go thrifting. Immedialy when I got to the store I was relieved. I also purchased 2 jackets, 1 cardigan, and 1 long sleeve shirt for 20 dollars. Also I found out two of them items I purchased were half off that day!
Go thrifting y'all! Throw some headphones in your ears if you want, and I guarantee you will be completely chillen!
The Look
Below I highlighted another Fall look with mostly thrifted items. A few of the pieces in this look are from mainstream stores, but one of them is actually cheaper than the thrifted item! It's not about where you shop y'all, but how 💯.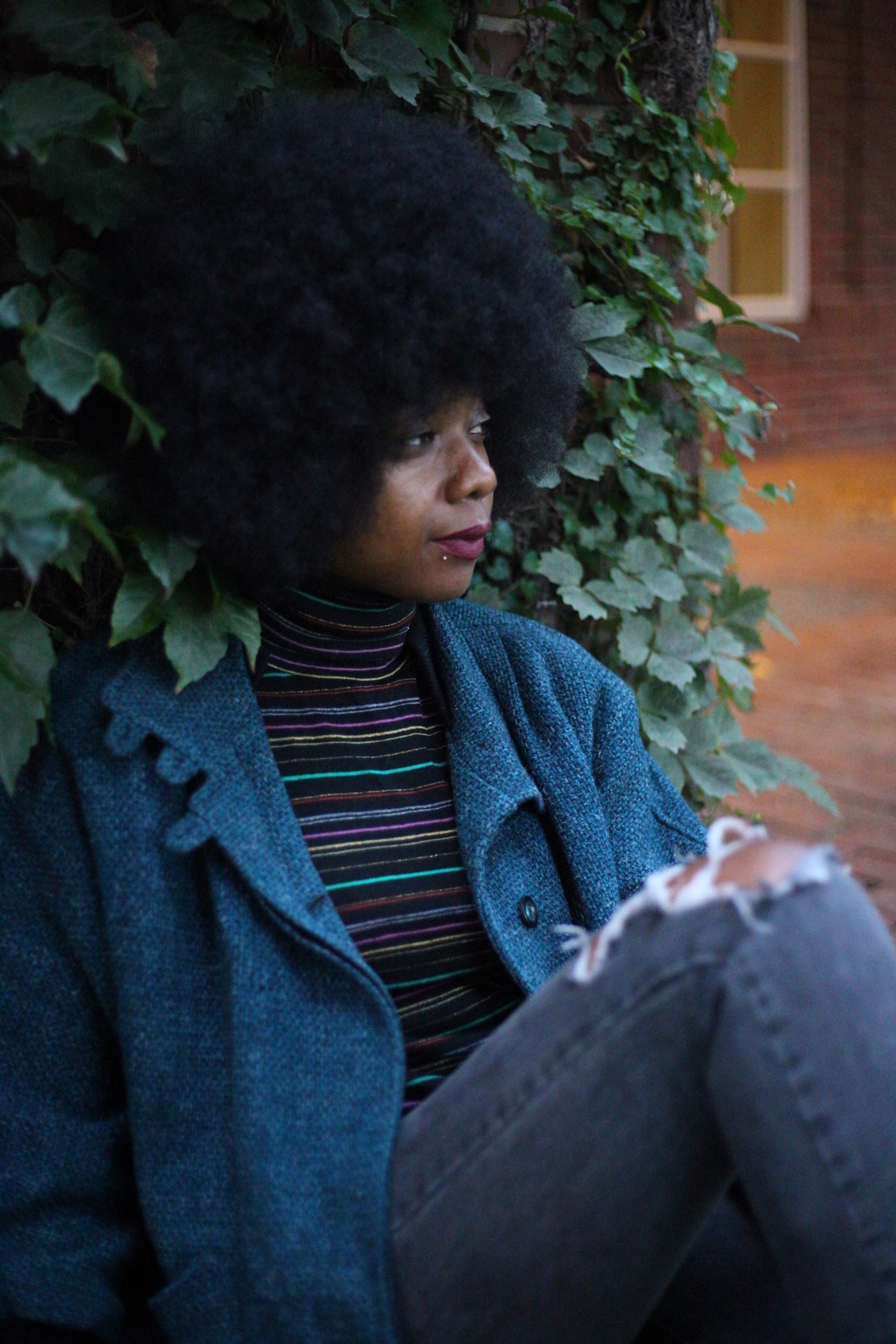 Green Tweed Jacket: The Garment District ($22) || Multi-Stripped Turtle Neck: Savers ($8) || Black Distressed Jeans: Charlotte Russe ($5) || Black Combat Boots ($20).
Total: $55
The jacket and the shirt were both thrifted, but the price of the pants … unbelievable right?! Also, I was going to wear tan booties with this look, instead of the black ones featured, but I was rushing to this shoot, and left them behind! I say that, only to let readers know, I would have worn this look a little differently than shown!
So what do you think readers?
After reading this post, who is going thrifting this weekend?
Also!!
Please fill free to share some of our favorite resale fashion stores below!! Thanks readers, and I hope everyone has a great weekend!