What's crazy is this was one of the first shoots I did, in early may. My collaborator and I, decided to explore the area if Cambridge, Massachusetts for photo inspiration. Walking the streets, we scanned the area, until we found locations that we could work with, and essentially bring to life.
Look Details:
I rocked a lace bodysuit from Boohoo, distressed Jeans from Boohoo, biker boots from Charlotte Russe, and an H&M jacket. For the record, I do not shop at H&M after that whole "The coolest monkey in the jungle" nonsense, but lemme tell y'all something, if I find a nice H&M jacket at a thrift store, or some nice H&M jeans at a thrift store? Especially if it's gently-used, I'll buy it, and that's exactly where I got the biker jacket from …Good Ole Savers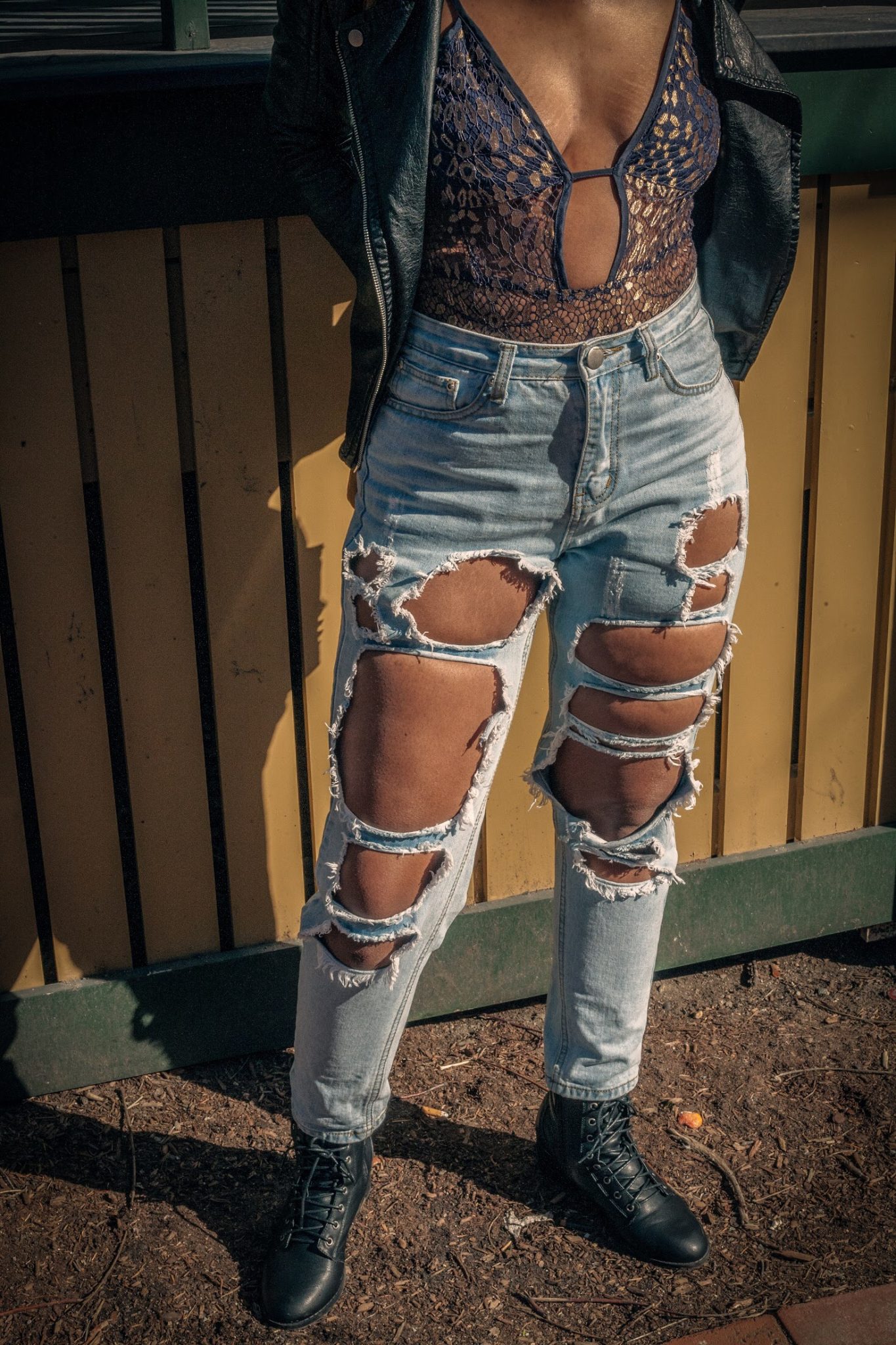 Distressed Jeans
I've been wanting a nice new pair of distressed jeans for sometime now, so when Boohoo.com was having one of their frequent sales on clothing, I had to cop a pair. These particular jeans are so comfortable, and they also fit my frame very well, two factors that matter a lot when it comes to jeans for me.
I love the sexy and edgy feeling I get when I wear these distressed jeans. For many people, It's hard to find jeans that fit our bodies, especially online, and for a decent prices! The jeans were 24 dollars, which is not bad at all for a pair of jeans.
Lace Bodysuit
Now, the body suit, I had purchased last year for a Cuba trip for 10 dollars. I'm a huge fan of Bodysuits, probably because they remind me of wearing leotards back in my dance class day, but I love the put together look that a bodysuit gives an outfit. This is just my opinion, but Bodysuits styled with high-waisted apparel, really give the Body shape. It also allows you to sensually embrace your figure without having to show so much skin, especially if showing a lot of skin is not your thing.
combats Boots
The combat boot heels, I found at Charlotte Russe, when I went one day for with my little and FOR my sisters, but somehow I end up in the line buying two pairs of shoes! Combat boots, are probably one of my favorite shoes to wear. I'm someone that can fuck up footwear SUPER easily, but combat boots are very durable for me, they stay so nice in shape! I can't say that Charlotte Russe is one of my main stores, I mean quite frankly, I can't say I really have a main store, but Charlotte Russe is definitely a store where I can find decent prices, and stylish items, to add to my wardrobe. Sometimes they have some clutch sales too. I remember once I found a nice pair of Black distressed jeans for 5 dollars!
That's what I think it's all about though, finding items that fit your style, regardless of what store you purchased them from. I think the more we focus on materialism, the further we get away from Self-expression.
Last but not least!
The Biker Jacket
I topped the look off, with a Biker Jacket, I had purchased from savers for 11 dollars. This past Soring/Summer of 2018,  Biker Jacket were a favorable trend amongst both men and women. This look will definitely carry into Fall 2018, and if you ask me, I think it's perfect for the season!
Personally, I've seen people rock the signature Black Biker jackets, or with Biker Jackets of different shades such as a vibrant red, or a mustard yellow. I love the immediate edge that a Biker Jacket gives your look. At times I find myself feeling like Michael Jackson with the Thriller Jackson on, smooth with a Badass Vibe lolll.
The Biker Jacket, is a style that looks good on many people, and can appeal to many people's styles. Personally, I've seen people stroll the city streets rockin the Black signature jacket, or a biker jacket with a more vibrant color such as a Red or a Mustard Yellow. ( I can't even lie, I need a mustard yellow one! Lol). In addition, I love the immediate edge that a Biker Jacket gives your look. At times I find myself feeling like Michael Jackson with the Thriller Jacket on, smooth with a Badass Vibe! You could be wearing sweats and a Tee, and throw a biker jacket on, and even that look would have a bit of an edge to it.
so if you got a Biker Jacket already, I say it's time to pull that Bad Boy out! And if not, it's never to late to cop one for the season 💃🏾