The overall dress, is a style that completely brings me back to the 90's, and for a 90's baby like myself, there is something special about the fashion from that era! The versatility, the edginess, and the expressive vibe of that time period, all speaks to who I'm. When I first started getting into thrifting, and buying all the dope retro fashion that I could possibly find, my style differently had a 90's feel to it. Whats's crazy is, initially when people would attempt to compliment me by stating that I had a 90's inspired look, I would actually get insulted, because I took it as people insinuating that my style was dated! I can describe my style using several adjectives, but never would I want to describe it as dated, or view it as such. But as time went on, and my sense of style continued to develop, I began to realize the truth behind those words. That there is certainly an essence of the 90's, that radiates through my style.
Now that we are in September (which is crazy by the way), and we are sadly inching towards the end of the summer, I know in many states that the weather starts to take a shift. I know in Boston, with our erratic weather, the weather will go up and down, up and down, most likely until the end of September, then it will begin to drop significantly. This period of time can be slightly confusing fashion wise, because it can become difficult to determine what to wear, when there is so much inconsistency in the air. In my opinion, an overall dress is a perfect inbetween look for that summer to fall transition time. You're not showing too much skin, but you're showing enough skin where you can still enjoy the final days of that summer sunshine.
I purchased the overall dress at Urban Outfitters in Newbury Street in Boston. It was only 20 dollars, and for someone that has shopped at Urbans for years, and even worked at Urbans, that price is a steal. Urbans can be SUPER expensive, and the original price of this jumpsuit can attest to that, since it was $59.00. Since I was in high school Urban Outfitters has always been a store that I fancied. Despite the hefty prices, they frequently have sales, and they also have a chill inviting aura that many mainstream stores lack.
This summer I was a fan of the stripe look, so I definitely digged the stripe style of the overall dress, and the ruffled shoulders that added a subtle flair. Speaking of subtleties, I also appreciated the light colors in the overalls, because they complimented each other, and my skin.
Underneath the dress, I wore a velour short sleeve shirt from Zara, that was purchased at Plato's Closet, a resale fashion store that I used to be a fashion buyer for. The shirt was neutral in color, and I wanted to wear it because of that reason, and because it also complimented the light colors within the overall dress, instead of overpowering them. The shirt was slightly oversized, which is why I wore it because I wanted the shirt to be lightly baggy, but to be accentuated by the waist in the overall dress. Typically people wear form fitting shirts underneath the overall dress, but I don't know, I just wanted a baggy feel!
Tip: If you don't want to wear a short sleeve shirt, you can wear a long sleeve shirt, that is on or off the shoulders, or one with a turtle neck style. The overall dress, can be dressed up or dressed down, and I don't know about you all, but I appreciate versatile pieces in my wardrobe. For example, for  this particular shoot I wore heels, but I could easily swap out the heels, for combat boots, for the Fall Season.
Below I listed the entire price of the look! Would you believe me if I told you that this look was less than 50 dollars? You know at the Key To Fashion, one of my primary missions, is to show readers how to be a fashion killa, who shuts shit down, for less!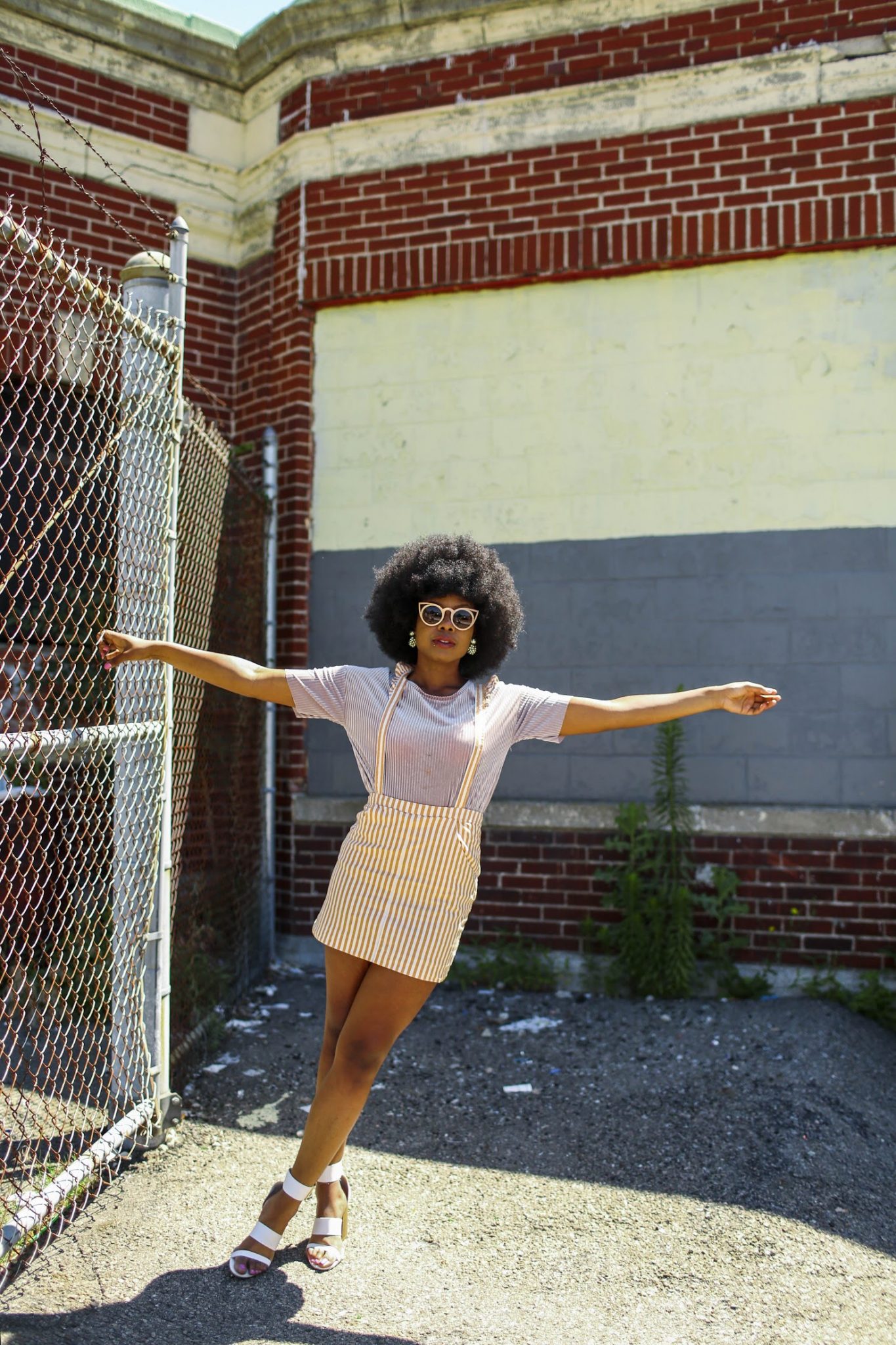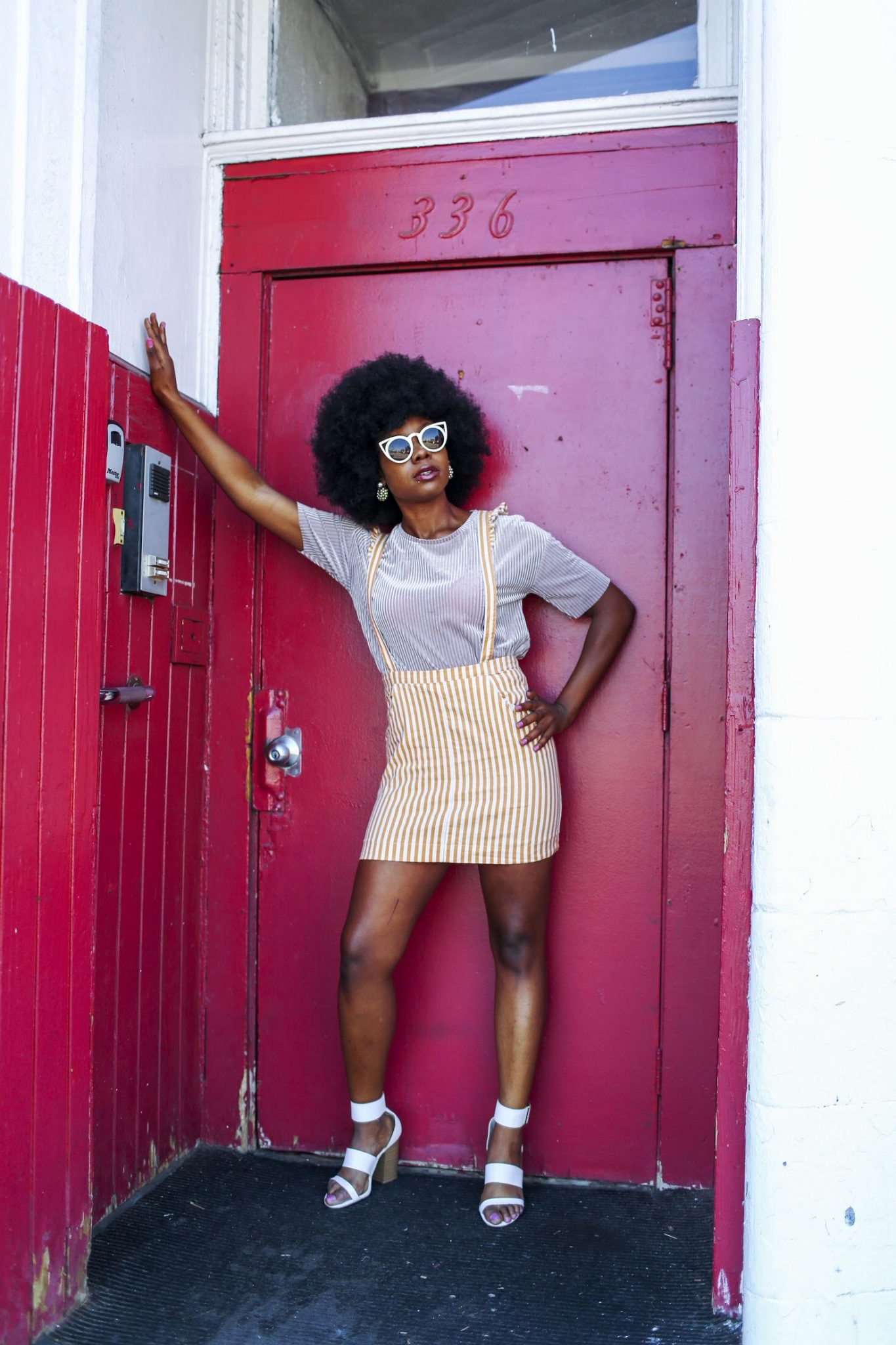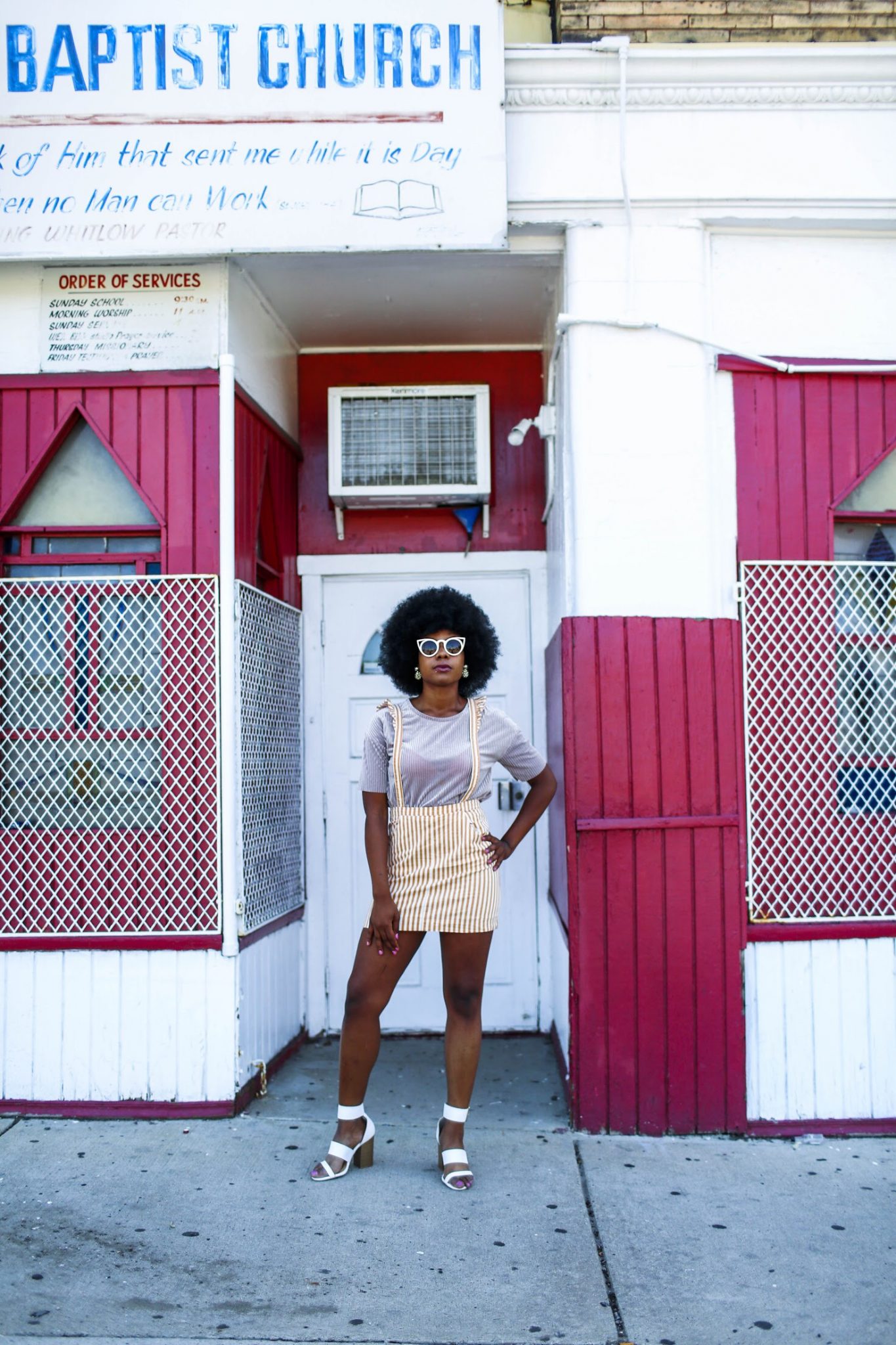 Jumpsuit: Urban Outfitters ($20) | Zara Velour Top: Plato's Closet ($7) | White Heels: Charlotte Russe ($12.50) | Glasses: Vivant Vintage ($10)
Total: 49.50
All under 50! Can you believe those shoes are 12.50. Read my All Under Fifty post to find out how I got these shoes for this crazy low price!
Last thing!
I appreciate you all taking the time to read this post, and taking the time to get to know me, and my mission with the Key To Fashion blog! Please introduce yourself on Instagram, Facebook, Twitter, Pinterest or email Keytofashion@gmail.com 
XoXo
Key Michel ✨