Fly vintage blouses, are a major fashion staple, for the Spring & Summer seasons!
Even though we are currently in a pandemic, you can still upgrade your spring/summer style; by getting creative and enhancing the looks that you wear.
You don't have to look like you are going through a tough time, even if you are.
Always remember that,
"when you look good you feel good!"
Vintage Blouses are a classic way, to make a statement with your look.
Below are the top 4 ways to vintage styles!
Fashion Icon, these 4 tips will certainly support you, with experimenting with your Spring/Summer this year!
1) Tucked-In
Tucking in a vintage blouse, gives your look a very polished and classic aesthetic.
This style looks great on both women and men.
For men; this is a very sophisticated look, which looks great with lowrise jeans.
For the ladies specifically, it gives your body shape, especially when you wear high-wasted bottoms with it.
You can wear high-waisted jeans, pants, shorts or skirts, with a tucked in vintage blouse.
The choice is yours!
In addition, you can accessorize the tucked in blouse with a belt, or a fanny pack.
2) Plunge Neck-Line
The plunge neck-line, is a carefree and sultry look.
Women can wear a bralette, bandeau, or no bra underneath a plunge look.
This look is great for fashion lovers, who are very daring, when it comes to their personal style.
3) Classic Button Down Aesthetic
The classic button down aesthetic is a favorite amongst many!
It is easy to style, and many people that purchase vintage blouses, enjoy wearing them in its' original form.
In addition, you can open up the entire blouse, and wear a tank top underneath it.
Doing this action, will transform the classic button down blouse, to a vintage cover-up blouse.
4) Tied-Up
The tied-up aesthetic, is a Key To Fashion favorite!
This style, gives the vintage blouse a 70's vibe and feel.
You can also draw in the access material of the blouse more; when you tied the top up, versus tucking it in.
Which will in return accentuate your waistline, and give your body, a nice curvy shape!
For Style Inspo: check out the latest video on the home page, of an outfit styled with a tied up vintage blouse!
You can also combine the different ways to style vintage blouses; by combining the plunge neck-line, with the tied-up blouse aesthetic
Conclusion:
Learning how to transform your vintage blouses, will allow you to realize that you can wear something you love, in several different ways!
What is your favorite way to wear vintage blouses, and what is a new way that you are going to begin to style them?
Share your thoughts with Key To Fashion below!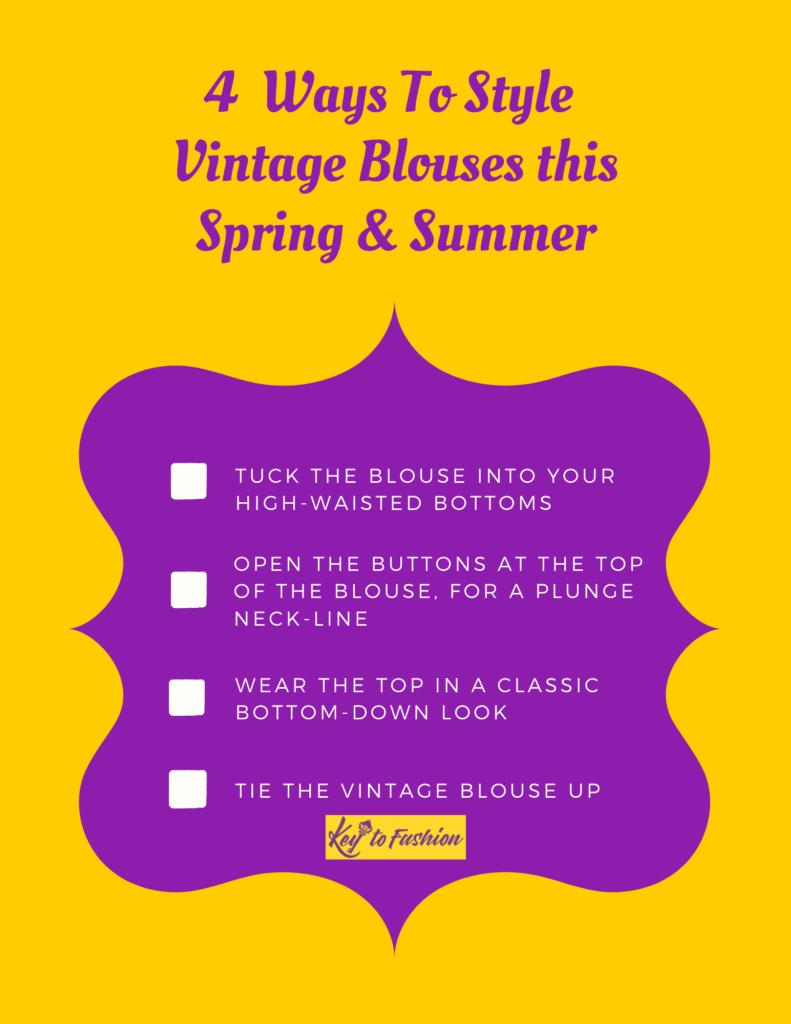 As always, thanks for reading Fashion Icon, and hopefully you learned something new!
XOXO
Key To Fashion 💜✨