The older we all become.
The faster time seems to travel by.
It can be a scary feeling sometimes ..I'll admit it. And at times it can feel like you're running a race against time. Especially if you're someone that sets a lot of goals for yourself.
Perhaps you may have plans to accomplish some of those goals in the next year.  5 years.  10 years. Or throughout your lifetime.
Whatever you posses as
goals
daily thoughts
motivations
intentions
Or dreams
First off, I commend you for possessing them in the first place.
You clearly hold yourself to high standards, and expectations. And that says a lot about who you are. And who you are striving to be. Similar to you..
I enjoy setting goals.
but I enjoy reaching them even move.
Goal-setting is a way for me to hold myself accountable.
To refrain from being complacent.
To work towards manifesting my visions and ideas.
To learn how to celebrate my small wins (because I can be very hard on myself sometimes).
And to grow with time.
I know I've mentioned goal-setting in previous posts. But I talk about it often, because I'm constantly setting goals.
Thinking about my goals.
And some days literally dreaming about my goals!
Some days, it's really my anxiety talking over though. Just being anxious in general. Which will then cause me to be anxious about my future.
Even when I wrote this post. It was a few weeks ago, at 5 in the morning. But I had been up since 3am. After randomly waking up because I was "Dream-thinking" about my goals! This used to happen to me, when I would get super anxious about my goals. And I wasn't putting my trust into the universe. Now I think it happens more so because I'm excited and eager!
With every goal we set
we make
or we master
There is something dynamic that happens after that process! One is growth, but the other is
Belief.
The belief that you can get better with time. The belief that you can do anything you set your mind to. And the belief that you can be what YOU envision yourself to be.
I think what separates a lot of us in life, is not how smart we are, or how hard we work, or how grand our visions are,
but it's the belief that we each have in ourselves.
And listen, I'm not saying that believing in ourselves is always easy stuff. Yes, I believe in myself. But I still face moments in life where I can be my biggest critic. In almost every job interview, whenever I've been asked to state some personal weaknesses, "The tendency to be hard on myself" has always been the primary one.
No one is harder on me than me.
And I'm sure a lot of readers can relate to that. Sometimes in life we tend to forget that language is power though. Because the more I chanted how hard on myself I could be.
Overtime the harder on myself I became.
And the harder on yourself you are, the slower you start to move, because now perfectionism & self-doubt, has gotten in your way.
For example, I had the idea of starting a blog since Early 2016. But it took until August 2018, for me to execute it. I don't regret the time or execution of my blog. Because in reality, mentally and spiritually I wasn't ready to produce it. But I do regret being so hard on myself.
I know my anxiety played a huge factor as well.
And fear.
fear of the unknown.
Fear and anxiety are interesting concepts. They are both always playing games with the mind
But neither of them define who we are.
So we gotta try our best not to them, stop us from chasing
our dreams..
or our visions.
This year I've accomplished a lot that I set my mind to. All because of my own personal belief.
I've manifested a lot of visions I had for 2018. Not only because of hardwork.
But because of my belief!
You really have to believe it first. Before you can achieve it. And this year really taught me that.
Life is truly a game. And the game all starts with how we feed our minds.
how we feed our hearts.
and how we feed our souls.
But the game truly starts with how we feel about ourselves. Whatever you feel about you. Is what you will project out into the world.
Personally, there are still some goals, that I want to check off before the year is over. And I'm sure many of you are feeling the same way.
As we are currently in Scorpio season, (the most ambitious sign of the zodiac). I expect a lot of us to feel a heighten sensation of that ambitious energy.
So I ask you, with only 50 days left in 2018, what are the goals that you still have left to accomplish?
Really think about that question.
What are the goals that you wrote down..
maybe in January.
maybe in April.
maybe in the summer time.
maybe this month.
shoot, maybe this week.
that you still have yet to get to.
What are the goals that seem to keep jumping from month, to month.
Maybe from year, to year.
That you still have yet to tackle?
And listen.
All these goals don't have to be about your career now. For example, one of my goals that I really need to work on, is seeing my family more. This year has been a great year for me passion wise. But I need and want to spent more time with my family.
My passions and my career both mean a lot to me.
But what is a career. And what is success. If you don't have the people, that mean the most to you to share that all with?
I completely understand that the 20's are our "selfish years". But I don't want to be too selfish now!
Another one of my goals is to continue to become more patient with my journey.
If your not into setting goals.
Or you don't have any goals left for 2018?
My question to you is..
why?
Now you know I'm not coming at you. Im not judging.
Im not criticizing.
All I asked you was..
Why?
I know you are not where you want to be.
I know you still have a lot of growing to do.
So why do you want to be complacent?
I know you want to be a better you.
I know you probably want to move out of the state. Or maybe out of the country.
I know you want to end that relationship your in (so you can enter a better one.) lol
I know you probably want a new job
Or a new career.
Or to pursue that dream career.
I know you want to take your career to new heights.
I know you want to try something new.
I know you want to do something new.
I know you want to save more money.
I know you want to lose weight.
I know you want to buy a car.
I know you want to travel more.
I know you want more out of life.
So with only 50 days left of 2018,
what are you claiming,
what are you working towards
and what are you manifesting?
I wish you a highly productive rest of the year!
Because I believe in you.
Why you might ask?
Some of y'all probably read that like, how the heck do you believe in me.
And you don't know me. 🤔
Because I believe that everyone has the ability and the power to get better with time. Only if you want to though. Growth is the hardest part about life. But that's what we are all here for.
My Grandmother was a big believer on personal growth. And growing up, I watched her be a catalyst for empowering others, to positively change their lives. And themselves.
Just be being a supporter.
Just by striving to seek to understand.
and just by spreading empathy.
And that's one of the beautiful things about this experience called Life. We all have the ability to get better with time.
Look details below 👇🏿
So y'all know, eveyrthing here was thrifted. But the shoes! I'm a latter post, I'll explain why I thinkshoes are quite hard to find when you thrift!
Orange Trench Coat: Goodwill ($10) | Snake Print Blouse: Savers ($7) |PacSun Jeans: Savers ($8): Moccasins: $60 ( I can't remeber where exactly I got the shoes from. But if you are interested in getting them.
You can order them on www.Minnetonka.com.
Or any other shoe site such as Journeys, DSW, Nordstrom, etc.
Total Price without the shoes: $25!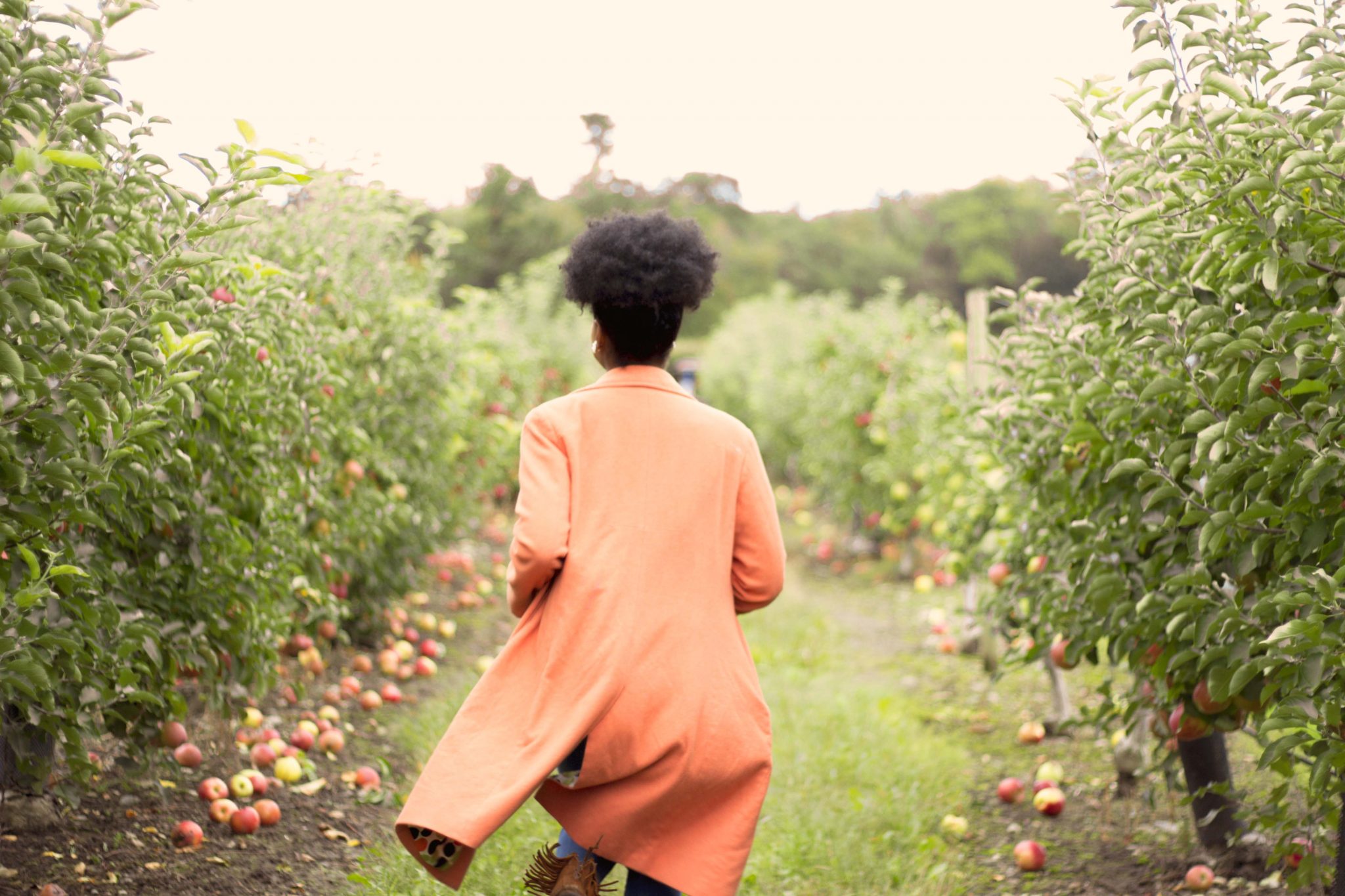 So if you don't mind sharing.
How has 2018 been for you?
And what are some goals that you want to accomplish before the year is done?
or goal you want to start now, that will lead into 2019?
KeytoFashion✨