So check this out, recently I went to a family friend's 50th birthday bash. It was a late 60's themed party, so many people had ordered their styles and outfits in advance. I found out about the party quite late, so I ended up pairing a look together that day! I wore a 16 dollar jumpsuit from Boohoo, and a 15 dollar leopard fur coat from Goodwill. I remeber the bartender graciously complimented me on my jacket, and I'm like wow,
"another thrift store find, steals the show again!" loll
I often receive compliments for the styles I wear, and as kind as the compliments can be, I still think to myself,
" If only these people knew I got this item from the thrift store. I wonder how their thought process would change?"
"How would they perceive the item after complimenting it, if I was to tell them it was from the thrift store?"
I guess it's the psych major in me to think about those kind of things, but I wonder you know? A few times, when I've told people I got certain items from the thrift store, I've received these very surprised looks. Some people have even stated,
"really the thrift store?!"
Or when I'm wearing something, and people ask me,
"Hey where did you get that from"
and I say,
"the thrift store".
Sometimes I get these very bewildered looks! And it clearly shows that 1) the preconceived notions and stigmas of thrifting are still very relevant today. And 2) Many people, are still unfamiliar with this realm of fashion. And it's okay because,
They will all soon learn!
Look Details
For this look, everything was thrifted, except for the shoes. I styled a grey jumpsuit with velour touches, with a printed and oversized, bomber jacket. A solid item, rocked with a printed item, is such a signature look of mines. I love prints, but I don't think every printed look, needs another printed look to compliment it. Sometimes a one color item, with a printed item to pair it with, truly does the job.
So about the shoes situation, because I know I've been doing a lot of looks where the entire look will be thrifted, but the shoes. Shoes are really hard for me to personally find at thrift stores, because I wear a 8.5/9, and I guess it must be a very common size. I can hardly ever find shoes in my size at thrift stores, or in my size that I like.
The Nike Dunks that I'm wearing with this look, are actually from my High School days. I really liked Nike Dunks back then, and I'm actually about to hop back on my sneaker wearing wave. Although I never been much of a "Jordan girl" ….Nike Dunks, Nike SB's, Vans or Chucks have always been my Go-To's!
THE LOOK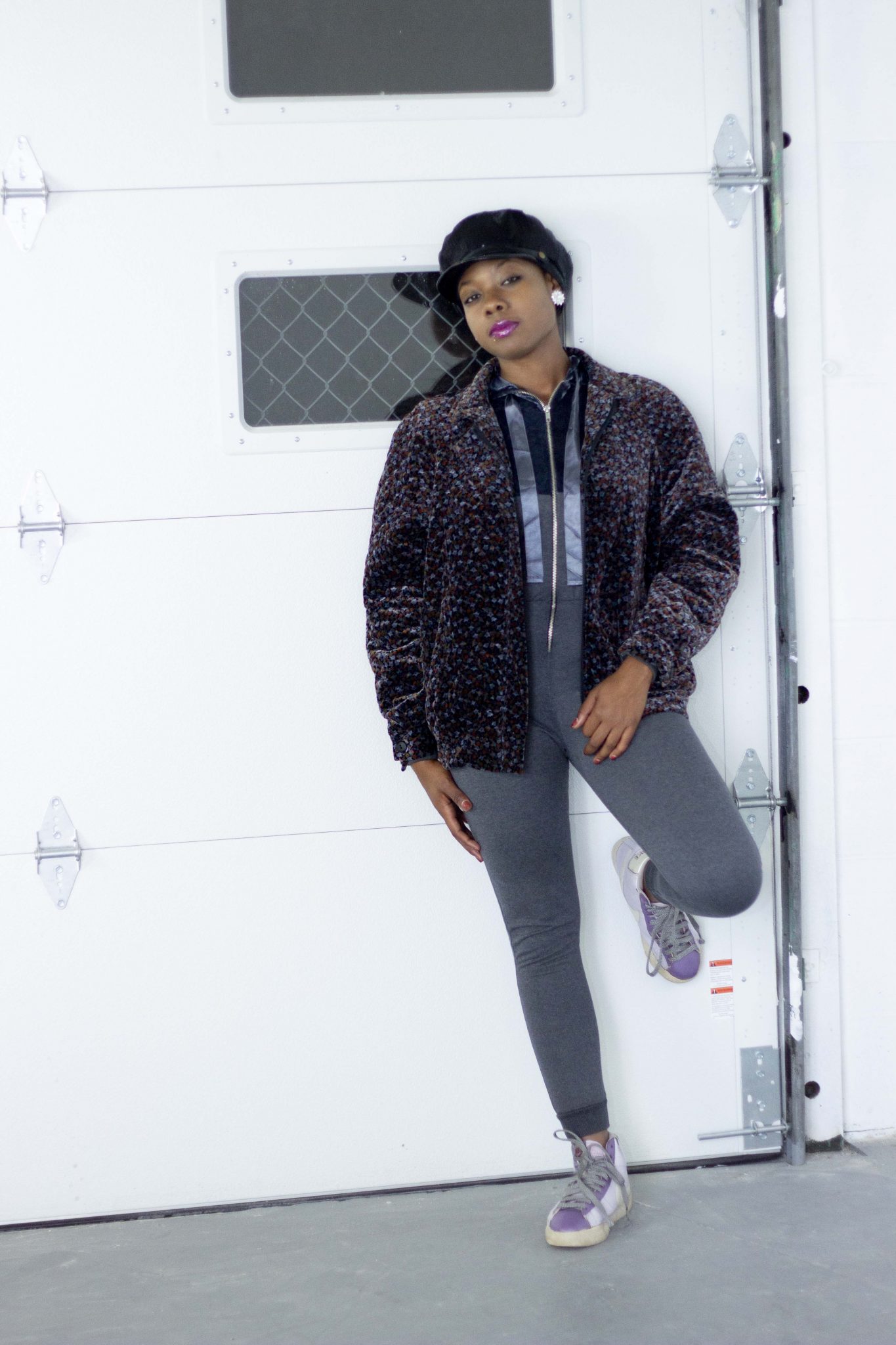 UNIQLO Jumpsuit: Store: Buffalo Exchange ($15) | Printed Bomber Jacket: Store: Goodwill Boston ($8) | NIKE Dunks: (They were a gift, but you can purchase them): Stores: But you can purchase them at Journeys.com, flightclub.com, or sneaerhead.com. If you live in Boston, Bodega, Laced, Concepts, are also great stores to check out for sneakers as well.
Without the Price of the shoes, this outfit is 21 dollars! Not bad right, and differently stylin' for less than less!
So question for you readers. I know some of you are thrifters like me, and others occasionally thrift. And there aren't others I know that are trying to get into it, but are still learning.
My question for you is, if I had a thrift challenge, would you all join?
Let me know your thoughts below, and subscribe to the blog to find out more!
Thanks for reading everyone!
XoXo
Key To Fashion