I know I'm not the only person that feels as though,  the Summer is LITERALLY flying by? We were just in June, it's crazy to me, how fast time flies! With everything going on in America, in the world, or in our personal lives, I believe we can all agree that it's important for all of us to take some time to ourselves this summer, if you haven't already. I'm talking to myself here as well, because I know I'm long overdue for a getaway. The summertime is honestly perfect for the festival season, which for the last two years, is something I have personally enjoyed attending! If you're reading this, and you've never been to a summer festival before, whether it's a music, fashion, hair, or cultural festival, I definitely encourage you to experience one. I attended my first festival two years ago, and it was more than a vibe! I also got to see Bad Gal Rih Rih, who I'll let y'all know right now, is my FAVE! A friend of mines, had asked me the week of Made in America, if I wanted to go. Now, I'm always down for a spontaneous adventure, so I was in there! Since then I have been to Roots Picnic in Philly, and Curlfest in Brooklyn, New York, but I honestly still have A LOT more festivals to attend. About two weeks ago on Instagram, I had expressed how I planned on going to Curlfest in NY, but I was unfortunately unable to attend, so for August, AfroPunk is on my list, and for September, the Essence Block Party, which are both happening in Brooklyn, New York. Let's hope the universe permits though!
What's dope about the festival experience to me, is the fashion aspect that's associated with it. The carefree nature of festivals, make it an expressive environment, where individuals can come uniquely or carefree dressed, in a personalized festival outfit of their choice. If the festival is more than one day, for example Made in America is two days, than you get to switch up your look for day one, to day two, and to me there is something exciting about that! Especially when your look for day one, is completely different from your look for day two, which gives you the chance to really express your versatility, or experiment with it. My motto for festivals are wear what you want, look fly, but make sure you're VERY comfortable in whatever you decide to wear. No one wants to stand around, or walk around for hours wearing an outfit, or pair of shoes that their uncomfortable in!
For this shoot, I wanted to show you all three frugal festival fashion looks, while highlighting eccentric shorts. I hope you all not only enjoy the looks, but the prices, because I want to convey to my readers that you don't have to spend a lot of money, to paint your canvas with a stylish look. Personally, there is nothing wrong with looking good for less, because our clothing doesn't make us, we make the clothing. 
In addition, I also wanted to inspire readers to rock festival looks with other styled shorts, than jean shorts, or distressed jean shorts. Why, you might ask? Now, I LOVE me some distressed jeans shorts, but honestly ya'll, you will see that look at a lot of summer festivals, and in the summer in general.  Plus, I always think it's cool to switch it up! 
I collaborated with Sydney Claire for this shoot, a visionary Fashion Photographer from Connecticut, who started creating at the age of 9. We shot at the Arnold Arboretum in Boston, a beautiful location in the city, often for photography, a nice stroll in the park, or if you're the romantic type, a nice picnic with you and your bae. If you're visiting Boston, I recommend you visit it! Lastly, I'll be listing the prices of some of the items below, many of the items were thrifted, or on sale, with most being under 40 dollars, yes, let that sink in!
Fit 1:
For this look I wore:
Frilly Black Bralette: Urban Outfitters ($10)
Cheetah Printed Shorts: Buffalo Exchange (Etsy Brand Murmuration)  ($7)
Red, Brown, And Cheetah Stripped Sandals: Go Jane ($10.78)
Ethnic Brown Bag: Market Store in Castries, St. Lucia ( The bag was less than 10 dollars, but I unfortunately can't recall the exact price)
Chunky Colorful Bangles: Market Store in Castries, St. Lucia (The bangles were also under 10 dollars, but I unfortunately can't recall the price)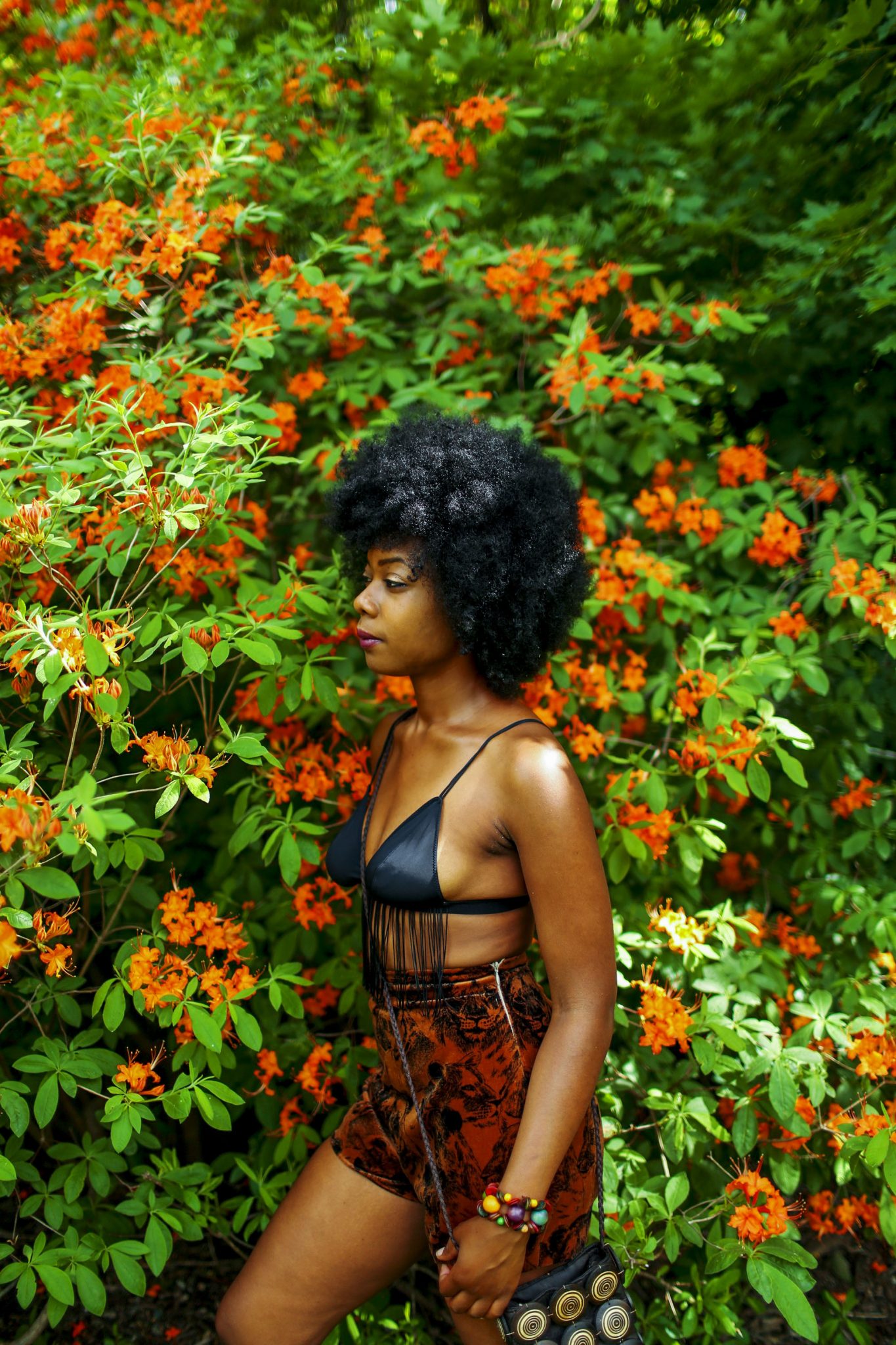 Fit 2
For this look I wore:
Multi-Color Velvet Plunge Bodysuit: Boohoo ($13)
Asos Denim Mutli-Color Shorts: Itrail Vintage, in Williams-burg, New York ($10)
Pink Velvet Slides: Boohoo ($15)
Gold Clear Glasses: Vendor in Brick Lane Marketplace, In Shoreditch, London ($10)




Fit 3:
For this look I wore:
See-Through Shall: Goodwill ($7)
Red Ruffled Crop Top: Boohoo ($8)
American Apparel Floral Shorts: Plato's Closet ($5)
Black Sandals: Boohoo ($25)
What festivals do you all plan to attend for the remainder of the summer? or even the year? Would you wear any of these looks, or better question, how would you personalize them? Let's chat below, or if you wish to talk to me directly fill free to email at keytofashionn@gmail.com. Thank you for stopping by everyone, and until we meet again!
XOXO
Key Michel